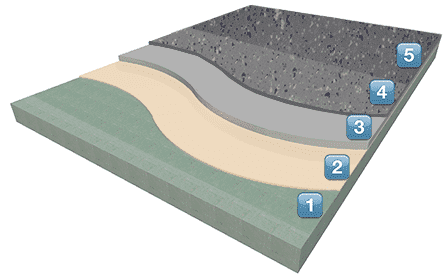 System «MasterPol №2»
DECORATIVE COATING FOR PRIMERS WITH ROUGHNESS up to 10 mm
1-Primer layer " MasterPol-010"
2-Leveling layer
3-the Main layer "MasterPol-210 " (2?4mm)
4-Decorative chips
5-finish Matt lacquer " MasterPol-310"
increased wear resistance
high decorative properties
the possibility of installation on the uneven primer
APPLICATION THE TYPE OF LOADS
- pedestrian loads, up to 500 people per day, when applying 2 mm of the main layer;
- pedestrian loads, up to 1500 people per day, when applying 4 mm of the main layer;
- transport loads, moving of loaders with load up to 3 tons, when applying 2 mm of the main layer;
- transport loads, moving of loaders with a load of up to 5 tons, when applying 4 mm of the main layer;
- static loads, racks with load up to 5 tons per 1 m2;
- static loads, racks with a load of up to 8 tons per 1 m2.
THE TYPE OF FOUNDATION
- allowed local irregularities up to 10 mm on 2-meter rail;
- concrete, the strength of the base from 250 MPa (B20);
- reinforced screed with a thickness of 40 m
THE TYPE OF THE ROOM
- warehouses, shopping centers;
- residential premises, administrative buildings;
- health facilities and military cluster facilities (barracks, canteens, checkpoints, etc.).
SYSTEM DESCRIPTION
Surface preparation. It is necessary to remove all dirt from the surface, as well as to align the bases mechanically to the normative values specified in the "Regulations on the application of the system". If necessary, repair defective areas (cracks, potholes, etc.), using the repair composition "MasterPol-012". After carrying out all work, the surface is thoroughly dust industrial vacuum cleaner.
Primer layer-is necessary for hardening of concrete surface, sealing pores, ensuring adhesion between concrete bases and subsequent layers of the system.
The alignment layer used to align the individual sections of the base (failures), when you reject them of the irregularities of the normative values.
The main layer-is used to create a monolithic polymer coating required to withstand loads according to the selected application area of the system (wide range of colors).
Decoration-used to create a highly decorative coating, obtain a decorative effect, depending on the color of the flocks used, chips, sequins, their size and density of application per square meter.
The finish layer is intended for" sealing " of decorative elements on the surface, giving the surface additional wear resistance and creating a matte effect.
FEATURES OF OPERATION
To prevent damage to the floor is PROHIBITED:
- drawing on the surface of heavy sharp objects;
- welding works without additional floor covering;
- impact on the surface of open sources of fire;
- exceeding the maximum loads of the selected system.
Timely removal of chemically aggressive substances from the surface is necessary.
Floor washing is done manually or mechanically using household chemicals. Short-term use of solvent for local cleaning of organic-soluble stains is possible.